How to control temperature of thermostatic valve
Q01 The water temperature control of Hydrotek #7800 thermostatic valve.
The Hydrotek #7800 Series faucet is a thermostatic sensor faucet with auto adjusting temperature function, the designed accurate thermostatic mechanism provides required water temperature within ± 1.8 ℉(1℃) accuracy.
Out temperature EasyTHERM Button range adjustable from cold to 120℉(49℃) max., with anti scald function.
What's Hydrotek 8200 Series Flushometer performance? (Range/Power Consumption, etc.) and Features?
Model: 02118121 Sensor PCB
Dimensions 51x23x19.7mm
Blue/orange female connector length 160mm
Red/black male connector length 160mm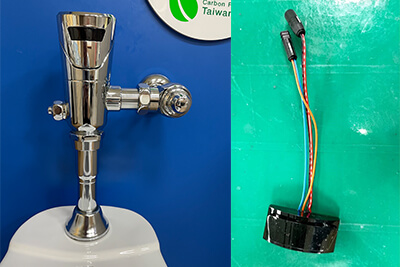 Power Source: AC Powered, Battery Powered,
AC Powered: Standard Plug-in: Input AC 100-240V, 60 Hz. Output 7.5VDC
Optional Multi-unit Adaptor: Serves up to 8 faucets, Input AC 100-240V, Output 7.5VDC, 3A
Battery Powered:
Four (4) "AA" Alkaline Batteries. ---1.5 million on/off flushes (with Hydrotek Solenoid Valve)
Standby Power Consumption: ≦35μA
Auto-adjusting, adaptive sensor range. Two kinds of sensor range adjusting methods:
5.1 People stand in front of the sensor eye at the position who wants set up, sensor range will be adjusted.
5.2 Hand waving: Upon power source is connected, hand waving within sensor range 6cm to enter into setup mode. Hand waves once, red light flashes once, mode 1 setup.

Mode 2-4 set up will be dealt with accordingly.

| Modes | Sensor range |
| --- | --- |
| 1 | 90 cm+ 10% |
| 2 | 80 cm+ 10% |
| 3 | 60 cm+ 10% |
| 4 | 50 cm+ 10% |

Dual flush function : Sensing time ≧60 sec. flushing high flow rate; sensing time≦60 sec. flushing low flow rate.
36 hours sentinel flushes once for Closet 2 sec., Urinal 1 sec.
AC/DC powered auto switchable.
Preset/adjustable flow rate.
LED low battery indicator light. (Battery powered only)
Battery service life:1.5million on/off cycles with our proprietary Enduratek energy optimization system.