Luxury Hotel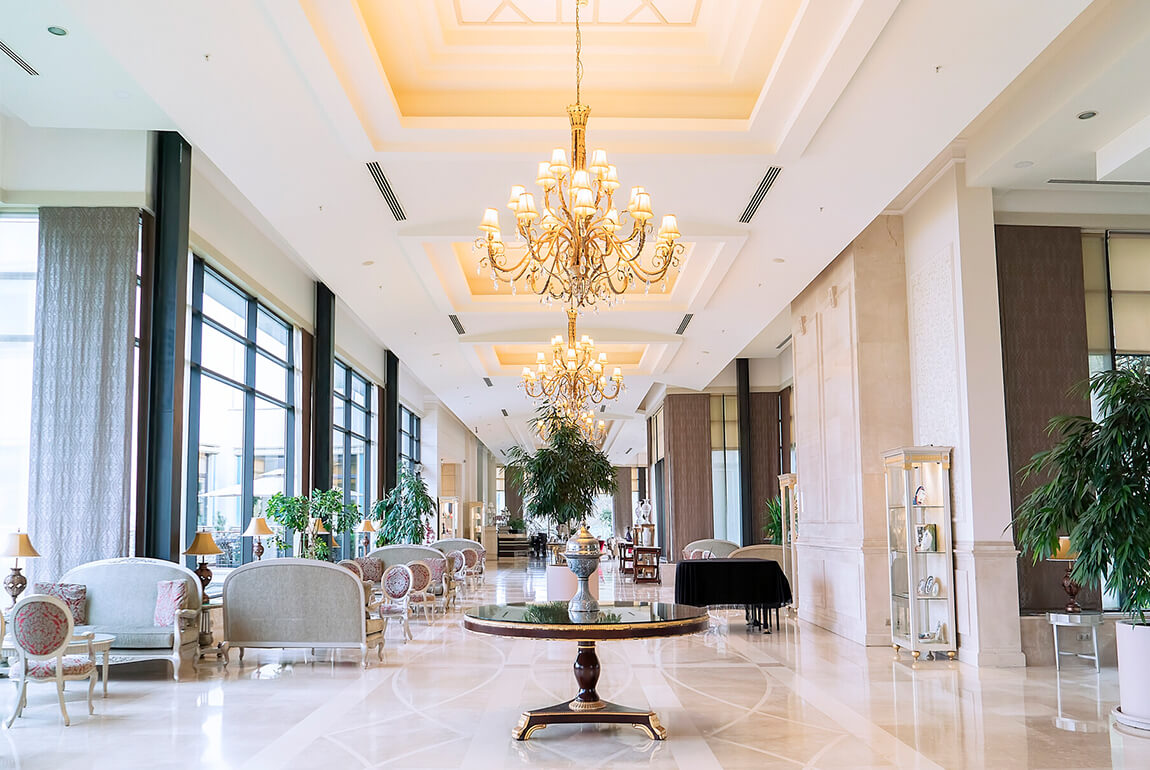 At hotel application, we provide an exceptional collection of bathrooms faucet options for contractors and developers. Our products have been used in many well-known hotel projects to provide sanitary and luxurious enjoyment. We look forward to becoming a partner of the construction company.
Design of Hotel Faucet
We will consider both the needs and the experiences of users at the same time. The faucet will be designed to have a technological and familiar appearance. We will design corresponding appearances for customers to meet the different local aesthetic points of view. The surface technology of our faucet adopts the higher standard ES-102 electroplating specification for decorative coating. The surface technology will be brushed nickel, brushed bronze, etc. Learn more from our website right away.
Energy-saving is a design feature of Hydrotek. In order to achieve the goal of environmentally friendly, the products are designed to reduce power consumption, we will study how the strength of the outlet water is appropriate, and what the angle of the outlet water is the best way to wash hands, will make the faucet sensitive, easy to clean and maintain. Make the installation steps clear and simple, reduce the number of parts, and use environmentally friendly materials to make, and strive to use green energy to supply energy.
Hydrotek Hotel Solution and Product Feature
We offer H/HB-4000CLR, H/HB4100LR, H/HB6000CLR, H/HB6700CLR for selections according to the sizes of the basins and spouts.
Features and Advantages:
(1) H/HB-3000CLR, H/HB-4000CLR can be chosen with handicapped handles.
(2) Adjustable automatic water shut-off time, sequentially 20 seconds, 30 seconds, 60 seconds, and 120 seconds.
(3) Faucet aerators specifications: 0.5GPM, 1.5GPM, 2.2GPM can be selected, faucet aerators can change the water flow and prevent theft and vandalism.
(4) The product comes with a replaceable water filter to reduce maintenance costs.
(5) The manual handle of the dual-temperature automatic faucet can provide continuous water output for special places, even when it is not powered.
(6) The manual handle of the dual-temperature automatic faucet can manually adjust the temperature.
(7) The single-temperature automatic faucet can be equipped with temperature control valve and adjust temperature.
Hydrotek Customer Service
We provide a variety of timely communication channels and quickly serve customer needs. According to your needs, our customer service staff will provide you with professional services. Hydrotek is famous in the industry for its fast, sincere, and professional service.
Hydrotek Quality Management
(1) Supplier Quality Management
According to the products parts, we select suitable partner that have fast customer service and have industry experiences, ensure the quality of the parts, and control the cost of the parts. Regular supplier evaluation, and supplier audit and coaching.
(2) Quality Management of Independent Inspection
According to the characteristics of the products, SOPs are formulated, the inspection items of the products are set, and the employees carry out independent inspections, so that "everyone is quality control, quality is controlled by everyone".
(3) Quality Testing Equipment
Constant pressure water test equipment, X-ray fluorescence spectrometer, high-temperature test equipment for plating adhesion, 2.5D image precision measurement equipment, plating corrosion salt spray test equipment, plating thickness electrolytic test equipment, electronic waveform test equipment, product life test equipment, handheld product high-voltage test equipment.
(4) Related Testing Standards
ASME A112.18.1/CSA B125.1, ASTM B456, ASTM B054, CNS 4157, CNS 4161, ASTM B368, ASTM B117, ASTM G85, CNS 8886, ASME A112.19.2/CSA B45.1/ASSE 1037/ASME A112. 1037/CSA B125-37, RoHS, ASTM B571, CNS 8088.
(5) Certification
ISO 9001, QC080000, ISO 14001, NSF, WaterSense, Green Mark, Product Carbon Footprint, Water-Saving Mark, etc.
Hydrotek is a professional bathroom faucets supplier, and our products and solutions can be applied in various industries. Do not hesitate to contact us for more information.